MAAP #73: United States' only National Tropical Rainforest ravaged by Hurricane Maria (Puerto Rico)
Download PDF of this article
MAAP usually focuses on deforestation in the Andean Amazon region, but has a larger interest in tropical forests in general. Thus, we present this analysis in that larger framework.
The New York Times recently reported that Hurricane Maria "obliterated" the United States' only national tropical rain forest as the powerful Category 4 hurricane (with 150 mph winds) passed over Puerto Rico on September 20.
Here, we present a series of fresh satellite images from October that indeed show the severe impact to nearly all 28,400 acres of El Yunque National Forest (see Base Map). El Yunque is managed by the United States Forest Service and is the only tropical rain forest in the US national forest system.
Throughout the article, click on each image to enlarge.
Before and After Hurricane Maria
Image 73 shows the striking contrast within El Yunque National Forest before (left panels) and after (right panels) Hurricane Maria using two different satellite systems. The top row is high-resolution (3 meter) imagery from the company Planet, and the bottom row is medium-resolution (30 meter) from NASA/USGS. These images match reports in the New York Times and NPR that the rain forests of El Yunque have been largely "defoliated."
Very High-Resolution Zooms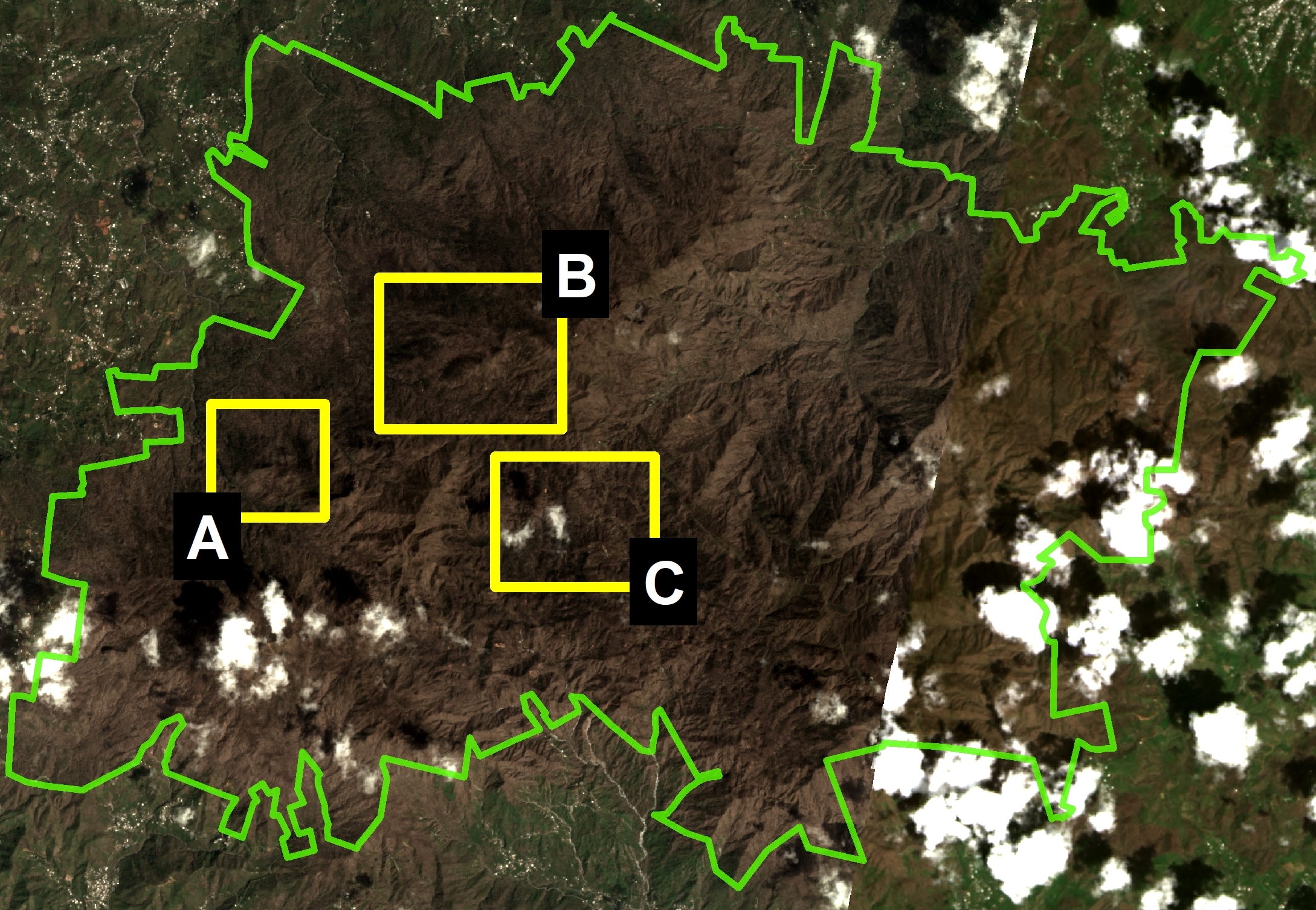 In addition, another satellite system, from the company DigitalGlobe, provides very high-resolution (0.5 meter) zooms of Hurricane Maria's impact on the rain forests of El Yunque.
The following images show, in greater detail, the contrast before (left panels) and after (right panels) the hurricane event in three different locations within El Yunque National Forest (labelled A, B, and C).
Imagery Reference
Planet Team (2017). Planet Application Program Interface: In Space for Life on Earth. San Francisco, CA. https://api.planet.com
DigitalGlobe (Nextview)
Citation
Finer M, Olexy T (2017) United States' only National Tropical Rainforest ravaged by Hurricane Maria (Puerto Rico). MAAP: 73.
Download PDF of this article