MAAP #114: Oil Drilling Pushes Deeper into Yasuni National Park
Yasuni National Park, located in the heart of the Ecuadorian Amazon, is one of the most biodiverse places in the world and forms part of the ancestral territory of the Waorani (see Base Map).
Under the ground of this vast area, however, are large oil fields.
In July 2019, the Waorani won an important legal victory to prevent oil activity in the western part of their territory (Block 22).
However, here we show the construction of new oil drilling platforms in the controversial ITT Block, in the northeast part of Yasuni National Park.
We calculated the deforestation of 57.3 hectares (141.6 acres) for drilling platforms and access roads within ITT and the adjacent Block 31.
In addition, incorporating edge effects caused by the deforestation, we estimate the impacted area is actually 655 hectares (1,619 acres), exceeding the limit of 300 hectares (741 acres) established in the public referendum of 2018.*
ITT Block
The ITT Block covers one of the most remote and intact parts of Yasuni National Park. In 2007, the Ecuadorian government launched a unique initiative to keep ITT's oil underground in exchange for economic compensation from the international community (Yasuni-ITT Initiative).
In 2013, however, the Initiative failed and was abandoned. Indeed, the government is now actively advancing it's ITT oil extraction plans.
Next, we present a video of satellite images showing the recent oil-related activity inside the ITT Block, within Yasuni National Park. It involves the construction of 4 drilling platforms (Tambococha A,B,D, E) and an access road, between 2017 and 2019. The associated deforestation is 28.5 hectares (70 acres).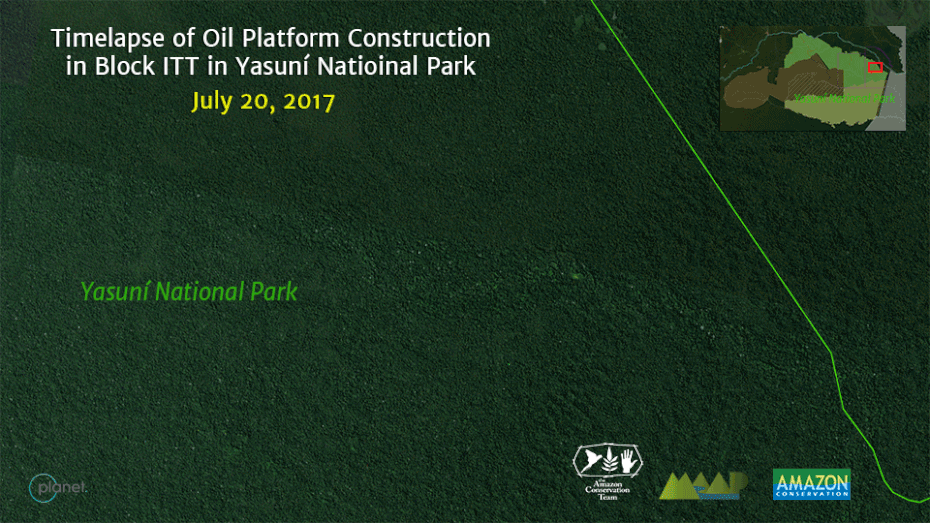 Zona Intangible (Untouchable Zone)
There are plans for at least 3 more drilling platforms deeper into Yasuni National Park (see yellow circle in map below). These platforms would bring oil activity close to the buffer zone of an area known as the Zona Intangible, or Untouchable Zone.
The government established the Zona Intangible in 2007 as an area where extractive activities, including oil, are prohibited to protect the territory of the Waorani relatives in voluntary isolation (Tagaeri and Taromenane).
*Notes
Edge effects are the impacts that extend into the surrounding forest from the edge of deforestation. These impacts include changes in forest structure and microclimate, higher tree mortality, and increased susceptibility to fire. Based on Broadbent et al (2008), we incorporated an edge effect of 100 meters, which represents the median distance of edge effects recorded in 62 scientific studies. This is a conservative estimate given that an edge effect of 300-2000 meters could be also be justified according to the data.
In MAAP #82, we documented the oil-related deforestation of more than 400 hectares (990 acres) throughout all of Yasuni National Park.
Referenes
Bass M, Finer M, Jenkins C et al (2010) Global Conservation Significance of Ecuador's Yasuní National Park. PLOS ONE. Link: https://journals.plos.org/plosone/article?id=10.1371/journal.pone.0008767
Finer M et al (2009) Ecuador's Yasuní Biosphere Reserve: a brief modern history and conservation challenges. ERL. Link: https://iopscience.iop.org/article/10.1088/1748-9326/4/3/034005/fulltext/
Broadbent EB, Asner GP et al (2008) Forest fragmentation and edge effects from deforestation
and selective logging in the Brazilian Amazon. Bio Cons 141:1745–1757.
Acknowledgements
We thank A. Puyol (EcoCiencia), M. Bayon (Colectivo de Geografía Crítica del Ecuador), E. Martínez,  and G. Palacios for helpful comments to earlier versions of this report.
This work was supported by the following major funders: Norwegian Agency for Development Cooperation (NORAD), MacArthur Foundation, International Conservation Fund of Canada (ICFC), Metabolic Studio, and Global Forest Watch Small Grants Fund (WRI).
Citation
Finer M, Thieme A, Hettler B (2019) Oil Drilling Pushes Deeper into Yasuni National Park (Ecuador). MAAP: 114.