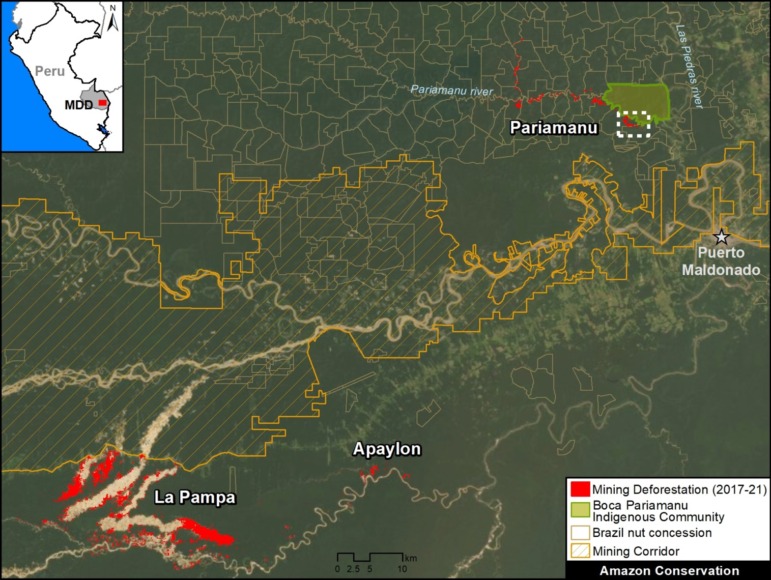 The Monitoring of the Andean Amazon Project (MAAP), a project of the conservation nonprofit Amazon Conservation Association, is at the forefront of the field of high-tech, real-time monitoring. Launched in 2015, MAAP's innovative application of satellite technology from multiple sources delivers actionable information that provides a transformational tool for governments and local people to rapidly detect deforestation as it is happening. MAAP currently covers 83% of the Amazon in 5 countries: Peru, Brazil, Colombia, Ecuador, and Bolivia, and our findings have been featured in major English news sources such as Reuters, Mongabay, Mongabay LatAm, CNN, as well as key Spanish news sources such as Agencia Efe and El Diario.
MAAP's methodology, published in Science in 2018, effectively combines remote sensing technologies (drones, radar, analytical algorithms, and more) to provide reports pinpointing the most urgent deforestation happening across the Amazon in real time, when responsive and preventative action is still possible.
MAAP can identify and determine the legality of deforestation at any scale and at any point across the entire Amazon basin – an area roughly the size of the forty-eight contiguous United States. With a small team of 5 using smart technology tools, MAAP's cost-effective model is accessible not only to governments as a long-term protection solution but also to local communities and indigenous groups that need to know where illegal activities and encroachment on their lands are happening on a daily basis.
Thanks to recent advances in satellite technology and analytical tools, MAAP is able to monitor every hectare of vast and remote areas quickly and thoroughly. Automated forest loss alerts, access to daily high-resolution imagery, and satellite imagery tasking allow our small expert team to conduct real-time monitoring that just a few years ago would have required costly, time-intensive, and even dangerous field operations with a high potential for direct conflict. Even then, most of these operations get to the forest after irreversible damage has already been done and the perpetrators have already fled, perpetuating a culture of impunity. Now, MAAP is able to track deforestation, identify illegal acts on the spot, and help halt illegal activity, making enforcement operations more timely and impactful.
Moving Beyond Monitoring To Ensure The Rule Of Law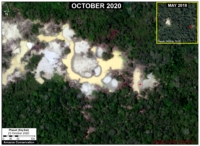 We piloted our work in Peru in 2015, where we have become a trusted partner of the government by delivering the data needed to identify, understand, and react to illegal deforestation activities. By submitting these timely confidential reports (known as policy briefs) directly to the agencies with the authority to take action, we give them the highly-sensitive information and analysis – on vital issues like illegal mining, logging roads, and incursions into indigenous territories – that they can use to quickly stop further forest loss through law enforcement.

We have taken a major step beyond deploying technology to detect deforestation though, as we now work with the Peruvian government to develop their local and national level capacity and official system for monitoring and applying the law (called Sistema Nacional de Control y Vigilancia). And, most importantly, we work with local concessionaires to protect their productive forests and with indigenous communities to provide them with real-time data and capacity to track and report illegal actions across their ancestral lands. Due to the vastness of these areas, they would otherwise not be able to detect incursions in time and adequately protect their territories solely with foot patrols. The transformative benefit that MAAP offers is that it prevents deforestation and reduces conflicts – as well as potentially deadly confrontations – for these forest guardians.
To increase accountability for swift intervention, we keep the general public informed and provide the news media with breaking stories on deforestation and fires across all nine countries of the Amazon as they happen, through our freely available website maaproject.org. 
Linking Technology With Policy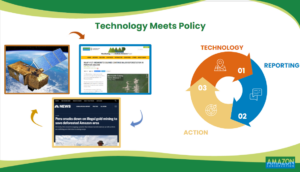 Since Operation Mercury, MAAP has also provided nonpublic reports directly to the Peruvian government. With each cycle of reporting illegal activity, government crackdowns and further analysis, deforestation rates are slowing in the areas we study.
The cycle begins with technology. Satellites are our most powerful tool, and we use an array of satellites with different resolutions. To begin we spot a potential area of deforestation or investigate a deforestation alert using a lower resolution satellite. Then we prioritize the data, such as where the deforestation is, whether it is illegal or not, an
d other related factors. Once we have determined the significance of the deforestation, we further investigate the drivers with higher resolution satellite imagery.
This information is taken and compiled into reports, as shown in our Step 2: Reporting section of the cycle. We have two types of reports: public reports via our MAAP website, and private policy briefs for government agencies. Our public reports may be picked up by major news sources, which sometimes results in the public putting more pressure on authorities to address the deforestation.
Reporting leads to our last section of the circle, which is on action taken to stop the deforestation or policies created to reduce deforestation. Action can take the form of administrative action, an intervention of illegal activities, creating policy to better address forest crimes, or legal repercussions for offenders.
Going for a Wider and Deeper Impact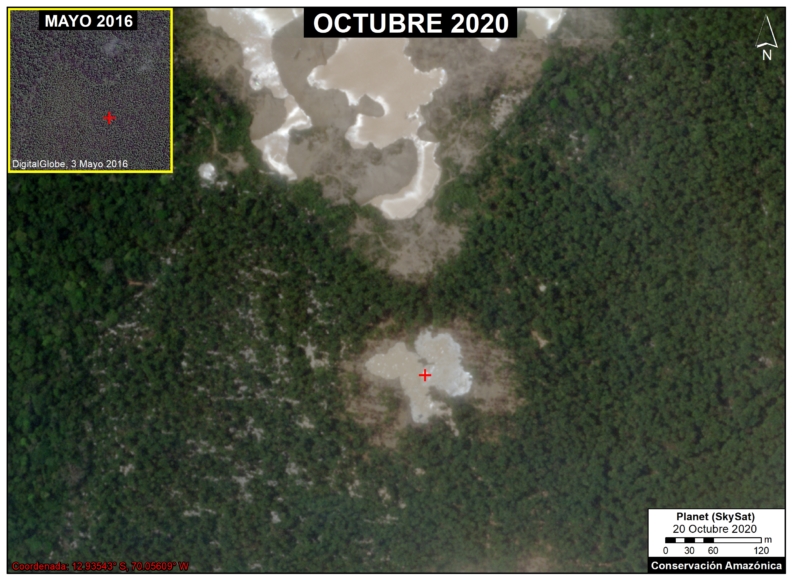 MAAP currently specializes in three types of real-time monitoring and tracking across the Amazon basin – deforestation, fires, and selective logging – and provides to authorities and local actors in Peru.

In order to achieve the scale and depth of coverage that governments and people need, we are extending  our work to provide data on some of the most urgent and impactful deforestation, degradation and climate issues of the day on a regional scale, expanding support for local governments to enact the rule of law, and continuing to evolve with the latest advances in technology that keep our efforts highly impactful and cost effective.
Extending our Reach Thematically and Across Borders
Our goal is for MAAP to grow to answer vital thematic questions happening across country borders that can influence regional policymaking as well as deepen our locally-driven model that allows us to answer the in-depth questions that local authorities and communities need in order to protect their forests.
Now
In the Future

2020 regional report on deforestation 

Key protected areas effectiveness analysis

In-depth fire seasons analysis since 2019

True tipping point of the Amazon 

Carbon Flux

Effectiveness of all Amazonian protected areas

Effectiveness of indigenous territories
Expanding Local Capacity, Action, And The Rule Of Law
We are continually building partnerships with local communities, indigenous groups, fellow NGOs, and government agencies to expand the use of our real-time monitoring program locally and to increase the capacity of each country fighting deforestation through law enforcement. 
Now
In the Future
Evolving With The Newest Technologies
One of the core concepts of MAAP since its founding has been employing new and evolving technologies, and staying agile to add the latest tech advances to our portfolio. We are not tied to any single technology or platform, which allows us to pilot and incorporate the latest cutting-edge technologies into our work – constantly adding new datasets, algorithms, and technologies (radar, AI, machine learning) – to improve the speed and quality of detection of deforestation, fires, and carbon emissions.
Now
In the Future

Super-high-resolution imagery (up to 3 meters)

Planet satellite imagery tasking

Cross-Amazonian fire tracking app

Machine Learning

Artificial intelligence

Carbon flux 
Illegal Gold Mining – Case Study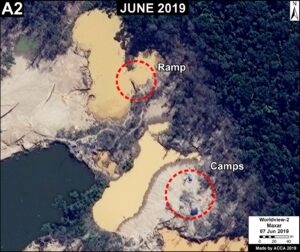 In 2019, the Peruvian government launched an illegal gold mining crackdown known as Operation Mercury, to combat the rampant and illegal deforestation, human trafficking, and other illicit activities that happen as the result of an illegal gold mining camp. This crackdown used our MAAP satellite imagery to identify and locate the illegal gold mining operations, lasted for two weeks, and was a collaboration between 1,200 Peruvian police, 300 soldiers and 70 prosecutors.
As a result, in a December 2020 MAAP report, we showed that there was a 78% decrease in gold mining deforestation across six sites in the Peruvian Amazon after Operation Mercury. Gold mining deforestation also decreased by a whopping 90% in La Pampa, a region where illegal mining activities were also a majoe threat.
"If we weren't doing this in La Pampa, this whole area would have been obliterated by now. These areas would be out of control. I think we have concrete examples of avoided deforestation, says Matt Finer.
Our Fire Tracking App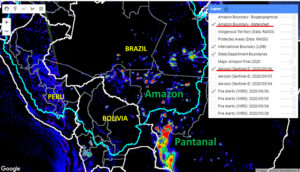 With our fire tracking app we developed as part of MAAP, we documented over 2,500 major fires across the Amazon in 2020.  The Amazon real-time fire monitoring app is hosted by Google Earth Engine and uses a combination of heat-based fire alerts with aerosol emissions to detect major fires.
When fires burn, they emit gases and aerosols. A new satellite  (Sentinel-5P from the European Space Agency) detects these aerosol emissions. The major feature of the app is user-friendly and real-time identification of major fires across the Amazon, based on the aerosol emissions detected by Sentinel-5P. The app also contains the commonly-used "fire alerts," which are satellite-based data of temperature anomalies.*
Thus, the user combine data from the atmosphere (aerosol) with data from the ground (temperature) to pinpoint the source of major fires.
Since the data updates daily and is not impacted by clouds, real-time monitoring really was possible. Last fire season, we uploaded each day's new image by midnight. Click here to read more about our fire app is used to detect major fires.
Our Partners
Amazon Conservation Team (Colombia)
Andes Amazon Fund (AAF)
Erol Foundation
FENAMAD Indigenous Federation (Peru)
FDCS (Ecuador)
ICFC
Instituto Centro de Vida (Brazil)
Norad
USAID
The Wyss Foundation
Contact
To contact MAAP or to subscribe (or unsubscribe) to our email list for updates whenever we post new material please write to: maap@amazonconservation.org
Open-Access
MAAP applies the Creative Commons Attribution (CC BY) license to all works we publish. Under this license, MAAP retains ownership of the material, but so long as MAAP is cited as the original source,  anyone is allowed to download, reuse, reprint, modify, distribute, and/or copy content. No permission is required from MAAP. Please scroll to the end of each individual article to see the recommended citation.