MAAP #178: Gold Mining Deforestation Across the Amazon
Download PDF of this article
Gold Mining is one of the major deforestation drivers across the Amazon.
Although not typically at the scale of agricultural deforestation, gold mining has the potential to severely impact critical areas such as protected areas & indigenous territories.
Relatedly, gold mining often targets remote areas, thus impacting largely intact and carbon-rich primary forests.
Here, for the first time, we present a large-scale overview of the major gold mining deforestation hotspots across the entire Amazon biome.
We found that gold mining is actively causing deforestation in nearly all nine countries of the Amazon (see Base Map).
In  this report, we focus on five countries: Peru, Brazil, Venezuela, Ecuador, and Bolivia, featuring case studies of the most severe active gold mining fronts.
In most cases, this mining is likely illegal given that it is occurring in protected areas and indigenous territories.
Note that we focus on mining activity that is causing deforestation of primary forests. There are additional critical gold mining areas that are occurring in rivers, such as in northern Peru and southern Colombia, that are not included in this report.
Below, we show a series high-resolution satellite images of the Amazon case studies. Each example highlights recent gold mining deforestation; that is comparing 2020 (left panel) with 2022 (right panel).
Case Studies, in High-resolution
Peruvian Amazon
Southern Peru (specifically, the region of Madre de Dios) is one of the most severe and emblematic examples of gold mining deforestation in the Amazon, clearing thousands of hectares of primary forest (see MAAP #154). The active mining fronts have evolved substantially over the past 20+ years. Most recently, gold mining has impacted areas such as Mangote and Pariamanu.
A. Mangote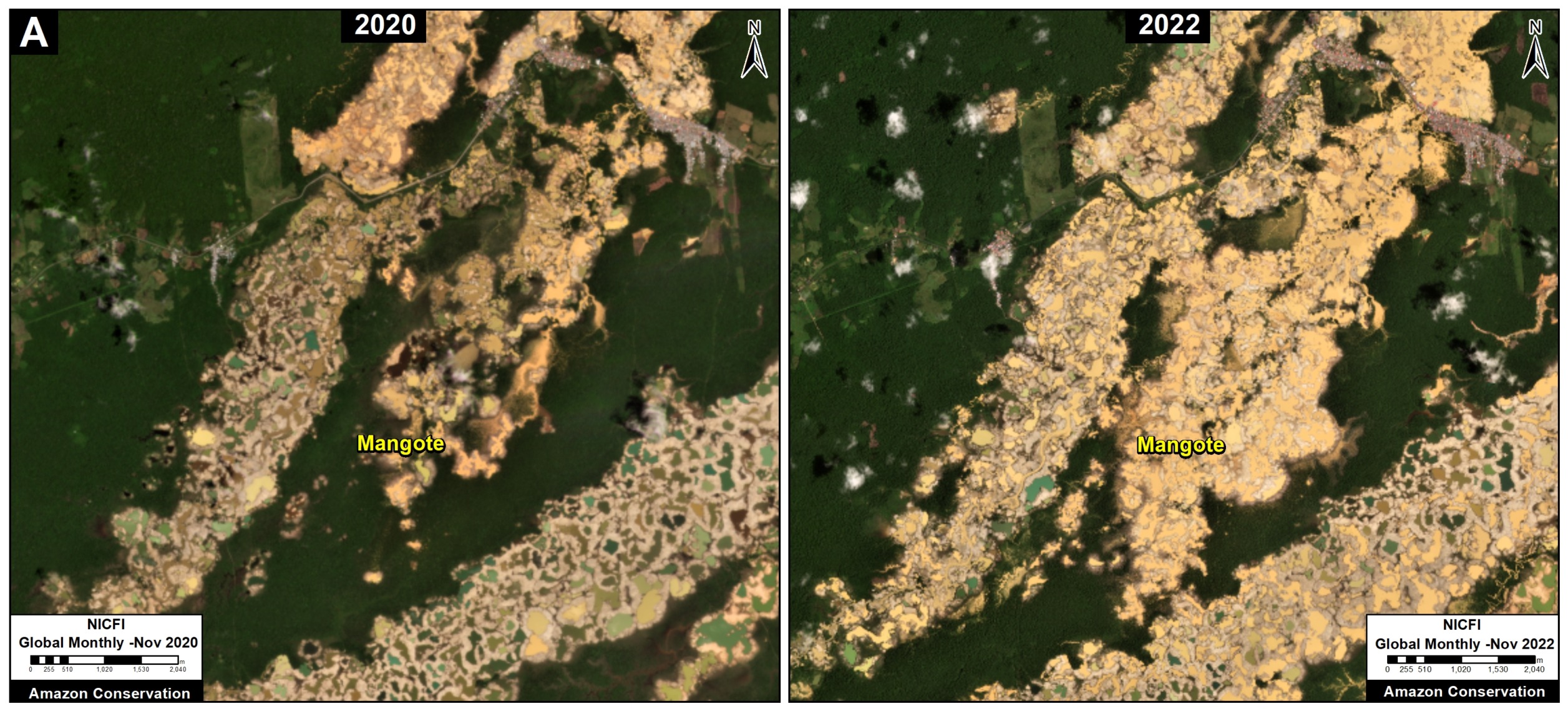 B. Pariamanu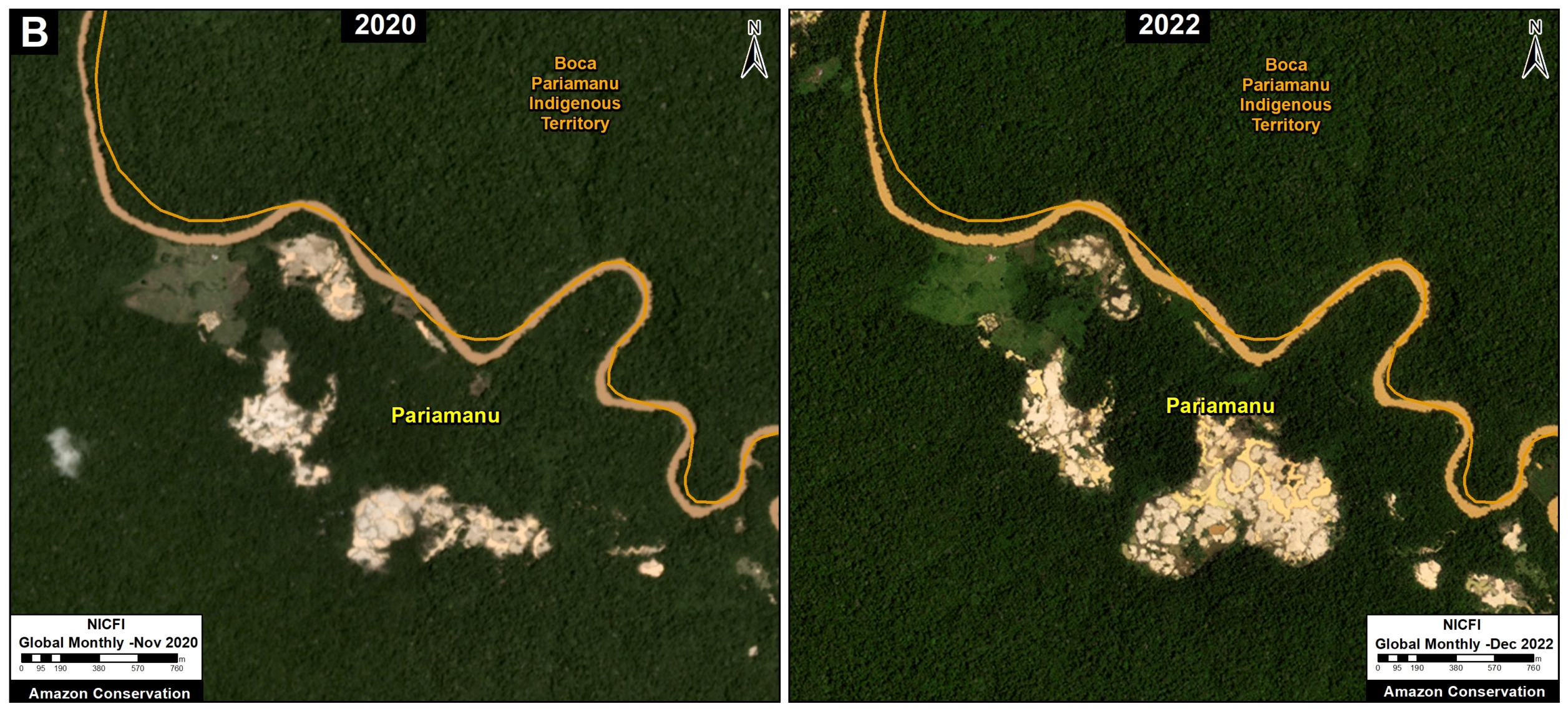 Brazilian Amazon
In the vast Brazilian Amazon, illegal gold mining deforestation is most severe across a number of indigenous territories, most notably: Munduruku (Pará state), Kayapó (Pará), and Yanomami (Roraima).
C. Munduruku Indigenous Territory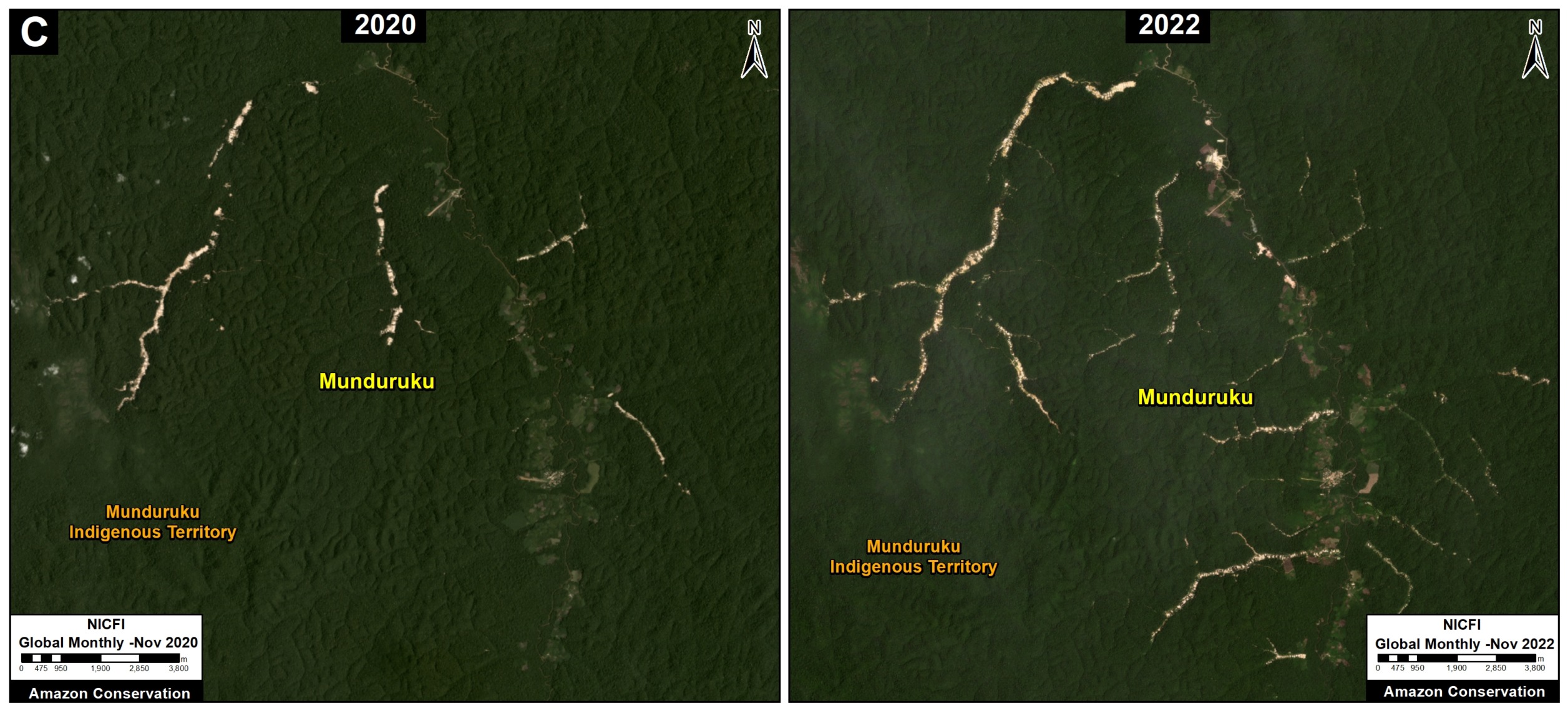 D. Kayapó Indigenous Territory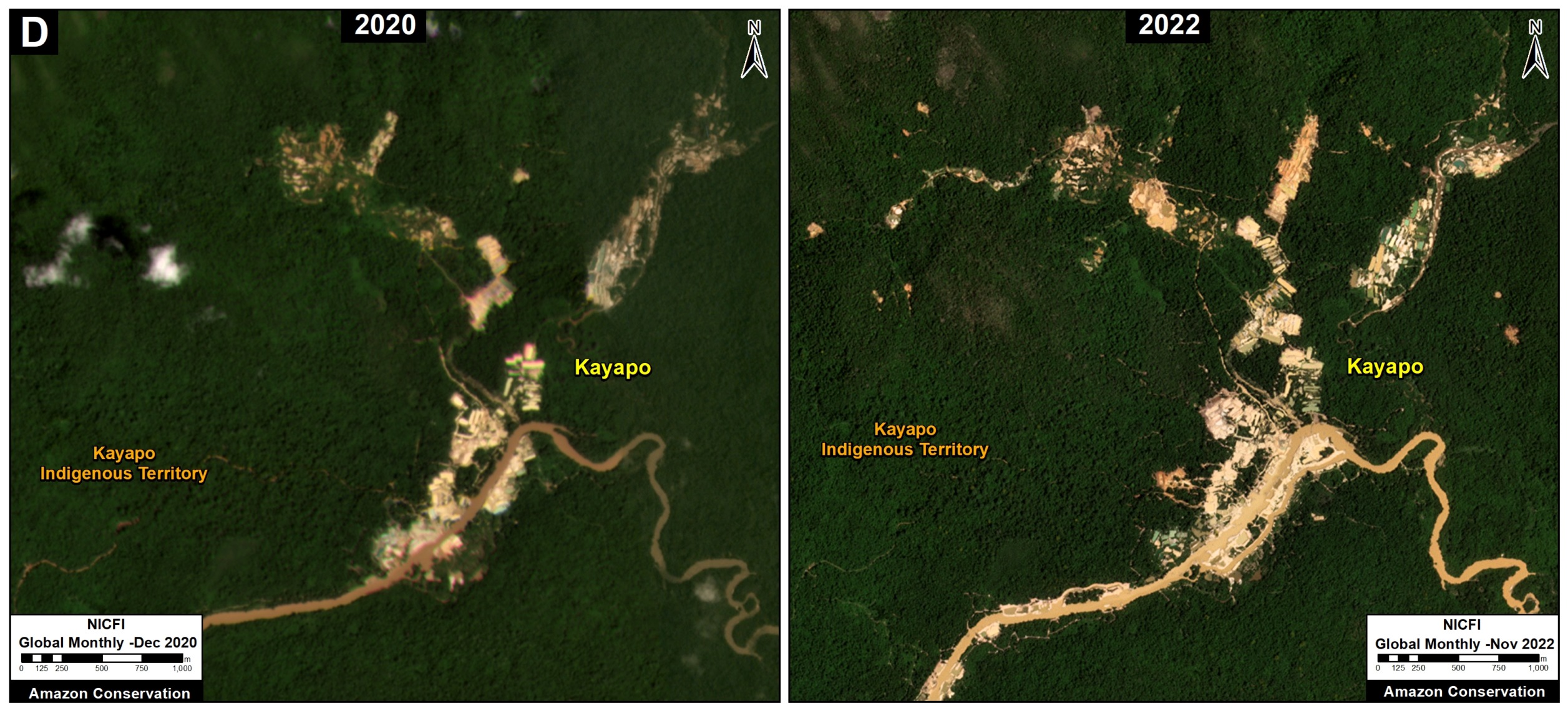 E. Yanomami Indigenous Territory
Venezuelan Amazon
Mining is one of the major deforestation drivers in the Venezuelan Amazon (MAAP #155). This mining impact is occurring in the designated Orinoco Mining Arc, but also key protected areas such as Caura, Canaima, and Yapacana National Parks.
F. Canaima National Park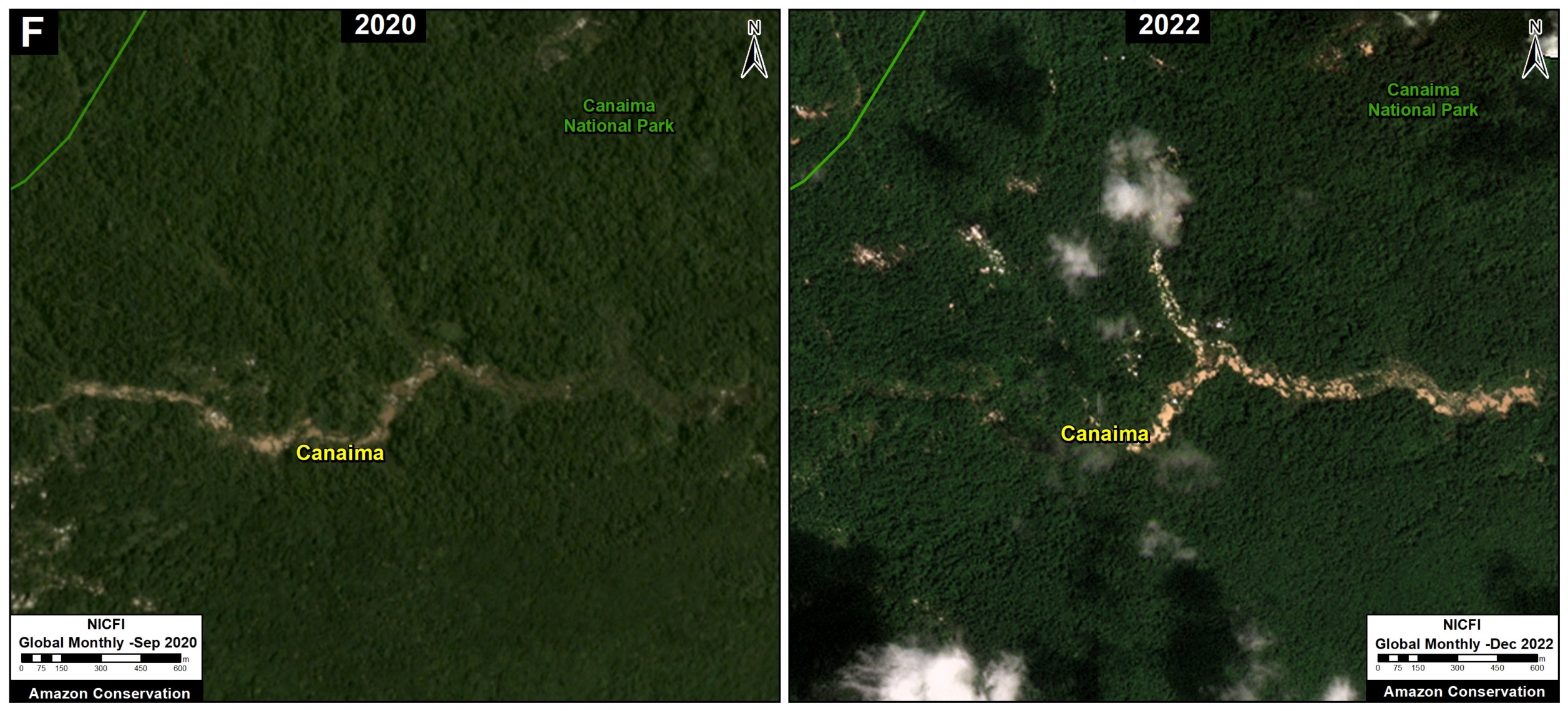 G. Yapacana National Park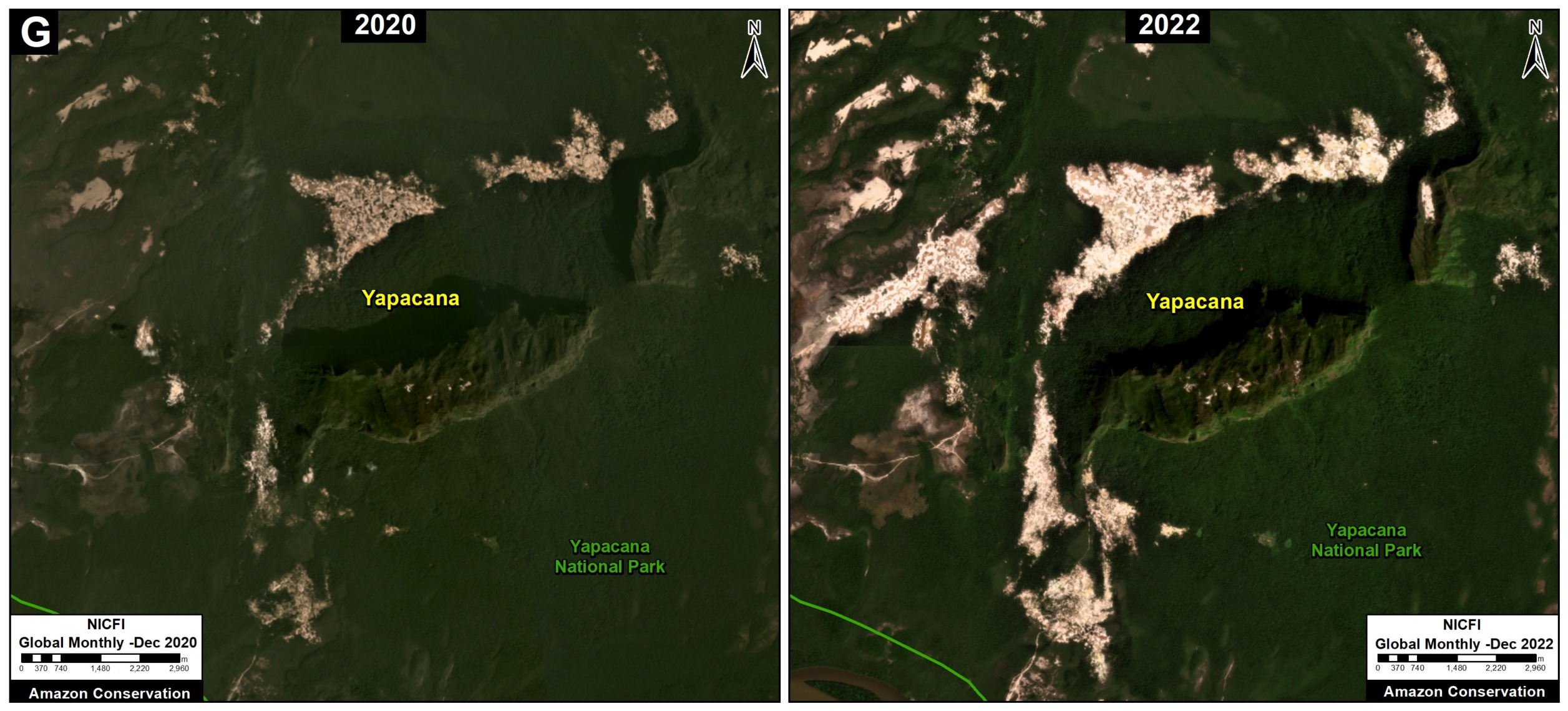 Ecuadorian Amazon
We have been documenting the numerous mining deforestation hotspots in the Ecuadorian Amazon that appear to be intensifying in recent years. Two key examples are along the Punino River (Napo and Orellana provinces) and further south in Podocarpus National Park.
H. Punino River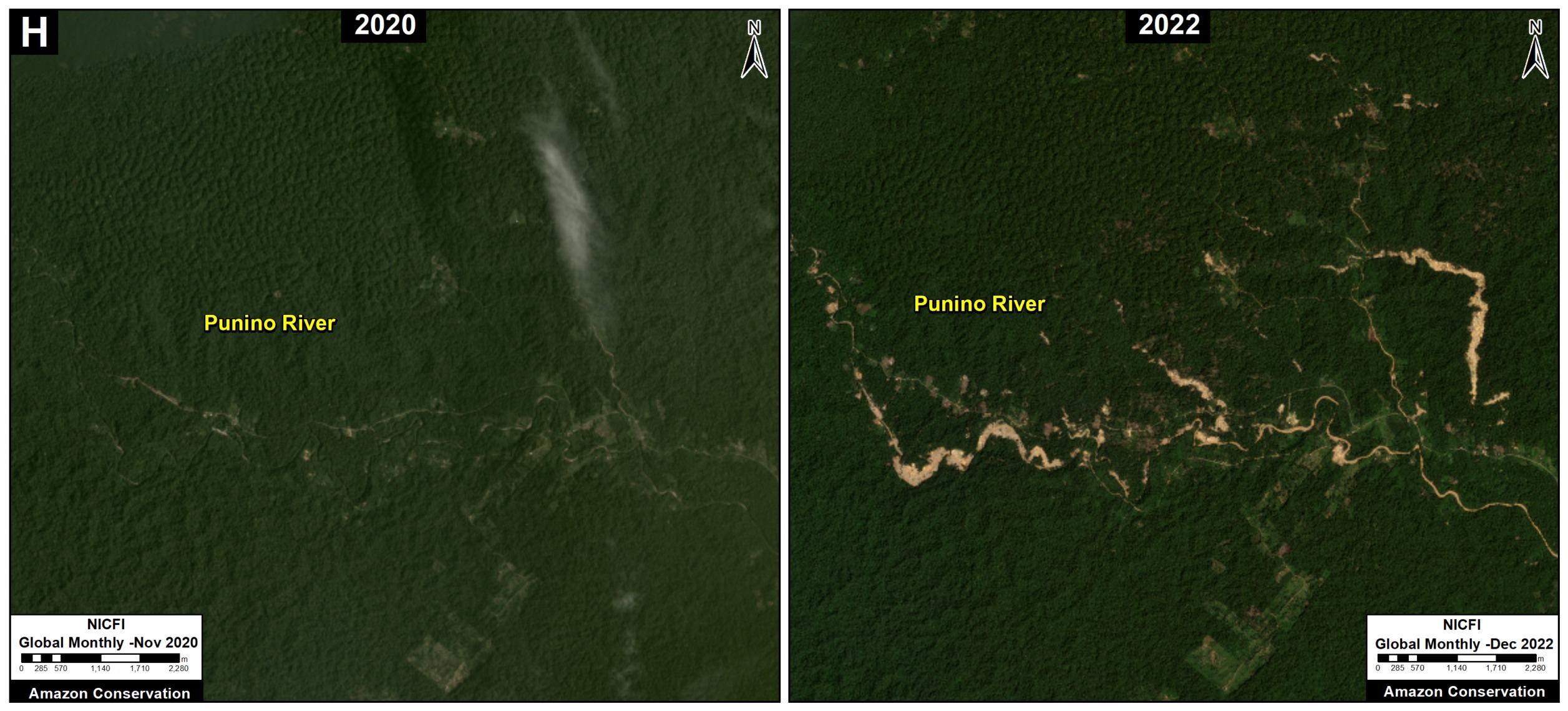 I. Podocarpus National Park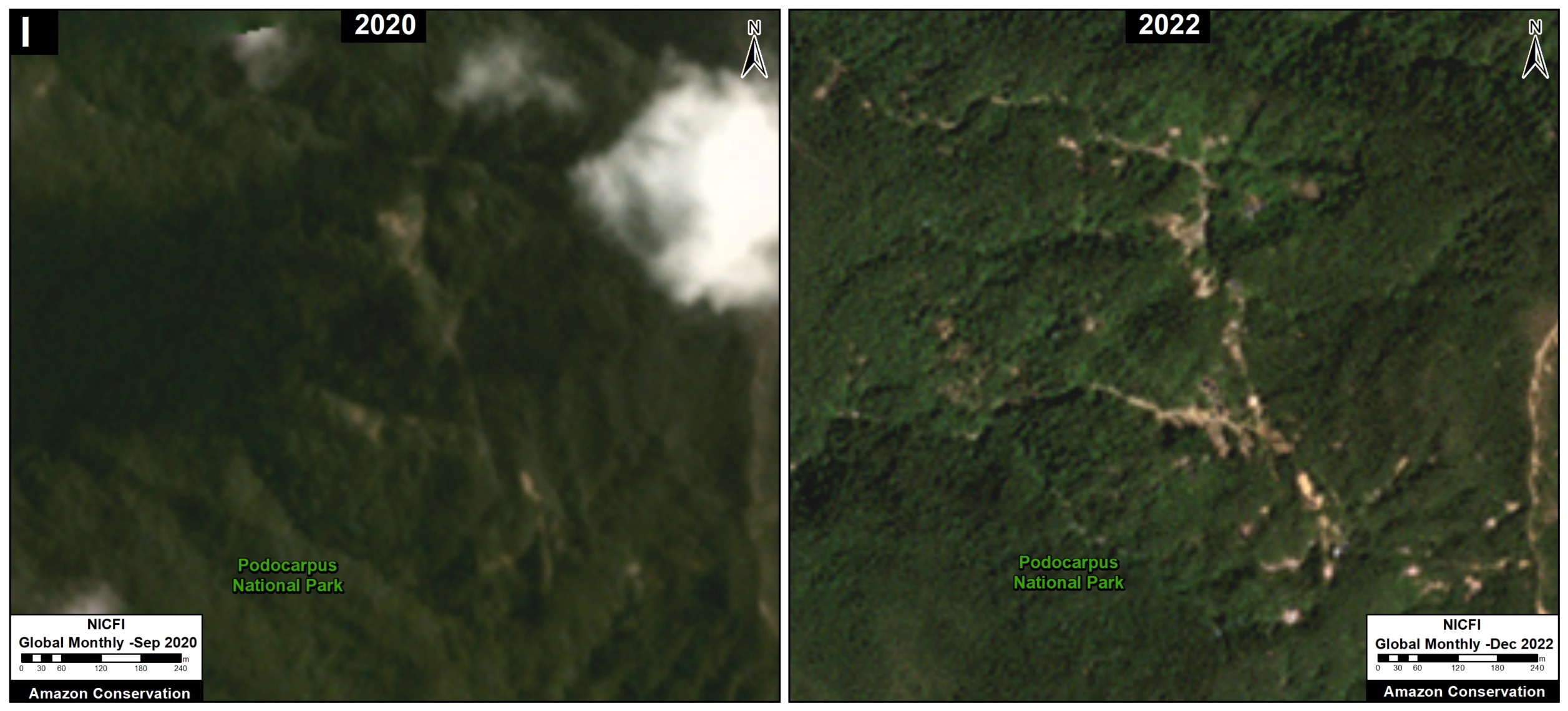 Bolivian Amazon
One of the newest gold mining deforestation hotspots is along the Tuichi River in Madidi National Park.
J. Madidi National Park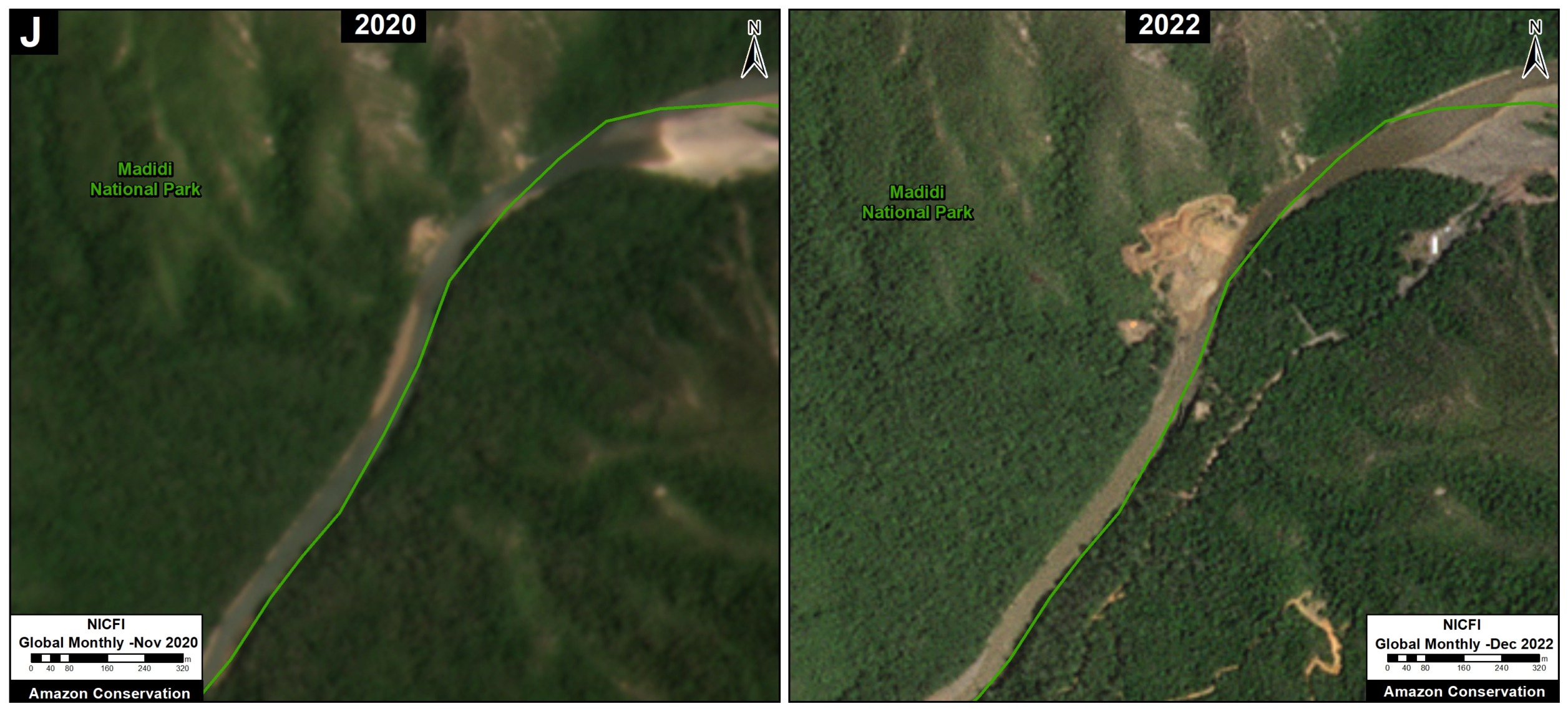 Methodology
Mining deforestation hotspots were identified based on MAAP's ongoing monitoring efforts, and assisted by Amazon Mining Watch.
Acknowledgements
We thank A. Folhadella, S. Novoa, D. Larrea, C. De Ugarte, and M. Teran for helpful comments on this report, and Conservación Amazónica – ACCA for data on mining sites in northern Peru.
This work was supported by Norad (Norwegian Agency for Development Cooperation) and ICFC (International Conservation Fund of Canada).

Citation
Finer M, Ariñez A, Mamani N (2023) Mining Deforestation Across the Amazon. MAAP: 178.
Download PDF of this article